ErsteStadt is a town located in northern Boletarian (coordinates -244, 65, -1033). The town is owned by Starquest manager thejrusso101 and is home to nearly 20 friendly and mature players. ErsteStadt is the capital of the nation on Boletarian known as Magrathea and is always looking for new dedicated members who are interested in getting involved in the Starquest community and to ultimately have fun with this unique server.
Town Features
Farms: Like many towns on Starquest, ErsteStadt makes its main source of income from farming. The town is equipped with automatic farms of every type of crop that is available to Boletarian. Spawn runs are made in various different types of freighters the town has to offer all its members. Between farming crops and killing endless amounts of mooshrooms native to Boletarian, one will never have a dull moment when taking a day to farm.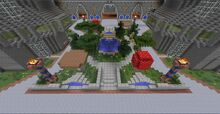 Building: ErsteStadt has been very fortunate to have so many creative players within it's community. There is always someone adding onto the town's build and it is always encourage to be creative and unique and allow their imagination to come to life. Projects are always being assigned for new building projects, yet are not forced upon town members if they do not wish to build.
Ship Building: Having numerous hangars gives ErsteStadt a decent environment for ship building. Members are allowed to build their own ships in some of the provided landing areas. Ship building is a huge part of Starquest and the town often has group projects to build big detailed ships that are space and speed efficient. The town often orders large shipments of wool for big ship projects that can be used by anyone within the town.
Housing Apartments: Every member of ErsteStadt is assigned an apartment. All of the apartments are located on one of the two towers located within the town and built identically. Town members can decorate their apartment anyway they wish, as long as it does not interfere with the exterior of the town. Feel free to ask the town mayor or town assistant if you need a bigger room.