Gunships, like light freighters, are very widely used across the solar system. They are the standard combat ship. Offering hefty firepower without sacrificing much in the way of speed, they appeal to a wide variety of captains.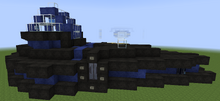 Speed: 15 BPS
Blocks: 200-600 (60% Wool)
Cannons : 5
Torpedo Launchers : 1% (Max 6)
Storage: 3% (Max 18)
Unlocked with: 11 Reputation or Infamy contract points and 50,000 credits
Gunships are vital combat vessels for any fleet. Few are the factions that do not feature at least a couple of gunships in their hangars. these versatile ships are often used for hunting pirates, defense, freighter escorts, or raiding. Gunships are very specialized for combat and not good for much else - they carry a maximum of 18 storage crates. Their five cannons, when fired simultaneously, release a devastating barrage that will often leave a target ship crippled. They are the next step up from a Fighter, and a cruiser is the next level above them. 
Unlocking
Edit
The gunship is unlocked with 11 Reputation or Infamy contract points and 50,000 credits.
Ad blocker interference detected!
Wikia is a free-to-use site that makes money from advertising. We have a modified experience for viewers using ad blockers

Wikia is not accessible if you've made further modifications. Remove the custom ad blocker rule(s) and the page will load as expected.