MachinaBuilder lets the player build a Machina that moves forward and drops blocks below its iron heads.
Operation
Edit
Activated by right-clicking a lever
Rotate by right-clicking the lever with a stick in hand.
Moves forward
Drops blocks from its chest under the iron heads.
If there are rails in the chest, lays those rails behind it as it moves.
Can be directed left or right through signs reading: <-, left, ->, right
Uses fuel in its furnace to run.
Maximum depth of 6. (configurable)
Respects protection from region protection plugins such as WorldGuard, depending on which player activated it.
Fuel usage and pickaxe usage (only for removing blocks while roadbuilding) can be configured on or off.
Required Parts
Edit
1-4 Wooden Planks
1-3 Iron Block heads
Furnace
1-2 Chests
Lever
The builder requires fuel, so put a fuel item into the furnace's fuel slot. It also requires blocks to build, put those into the builder's chest. Rightclick the lever to activate it.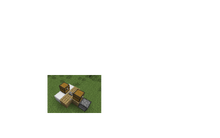 The extended version has an extra wood block and chest on the main module.
In addition to rotating with a stick, the builder can be directed to left or right with a sign that reads: <-, left, ->, right
Ad blocker interference detected!
Wikia is a free-to-use site that makes money from advertising. We have a modified experience for viewers using ad blockers

Wikia is not accessible if you've made further modifications. Remove the custom ad blocker rule(s) and the page will load as expected.