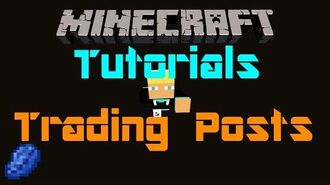 Trade Posts are the new machines that will be used on Starquest 3.0 to trade items on a interplanetary scale, almost like an Amazon.com/Ebay like feature.
Blocks/items used:
2 ruby/emerald blocks
1 lapis block(TAKE YOUR LAPIS!!!!)
1 Chest
1 Sign
How to build:
Place the two ruby blocks one on top of each other, with the lapis block on top.
Place the chest at the bottom of the "totem" so that it is touching the ruby block
Place the sign above the chest and on the ruby block and type [tradepost]
Right-click once to activate!
How to use the trade post:
/tradepost buy <price> <item> <amount> [data]: Used to place a buy order
/tradepost sell <price>: Places a sell order using the items in the chest and the price specified
/tradepost manage: Opens an inventory that contains your orders. Click an order to delete it
/tradepost browse [filter]: Browse all trades on any planet. See below for how to use filter
/tradepost complete: Complete another player's buy/sell order
/tradepost claim: Use this to claim your items once your buy order has been completed
Ad blocker interference detected!
Wikia is a free-to-use site that makes money from advertising. We have a modified experience for viewers using ad blockers

Wikia is not accessible if you've made further modifications. Remove the custom ad blocker rule(s) and the page will load as expected.